The Grill Cook, Chop Chop
Argentina is known for many things. Beautiful scenery, tango, delicious wine,  football, Evita, and, of course, world-class Patagonian meats.  There is no better place to experience this important part of Argentine culture than at a parilla, a steakhouse specializing in grilled meats.  
For many travelers, trying Argentinan grilled meat is on the top of their to-do list and the parillas in Patagonia offer some of the best grilled meat in the country.  Villa la Angostura is one of the many charming mountain towns of Patagonia and is a popular spot for international tourists.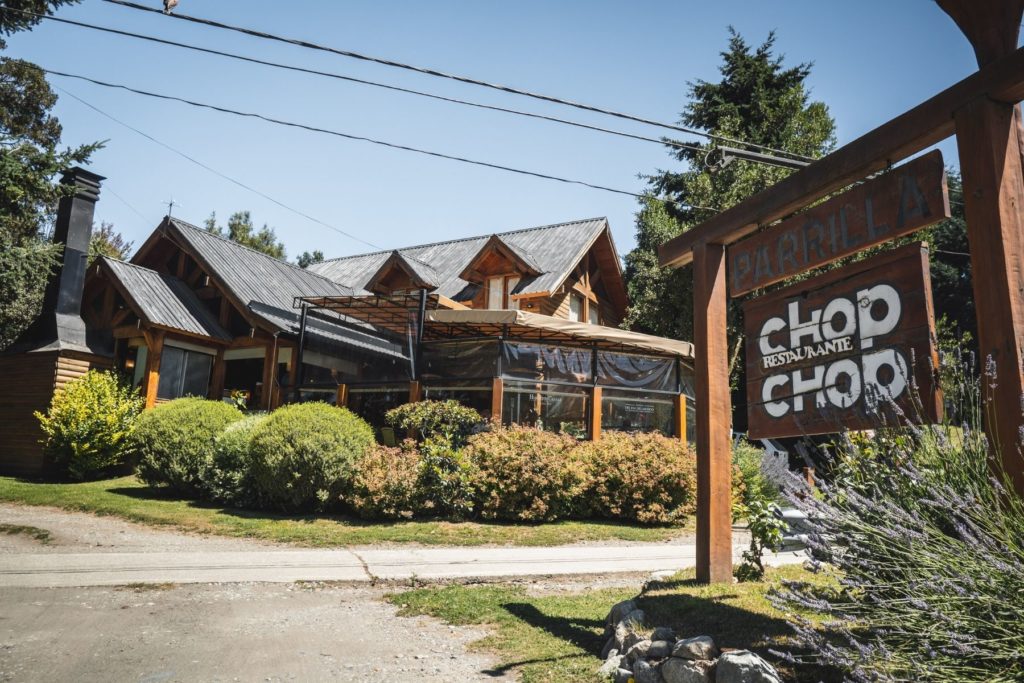 The complete Patagonia restaurant experience
When you arrive in this picturesque pueblo and ask where the best place is to try the world-famous Argentinan meat,  most people will tell you to go to Chop Chop.  Although there are other grills you can try, Chop Chop is the oldest grill there and has been open for the past 19 years. They are now considered a bit of an institution. 
When you first walk into Chop Chop, the warmth of the wooden interior gives you the sense of being at home and the atmosphere is friendly and welcoming.  The owners, Vivi and Eduardo, rush around helping guests choose what to eat from the extensive list of traditional Argentian grilled meat including bife de chorizo and Patagonian lamb.  There are also vegetarian and fish options available and portion sizes are very generous.  Every dish is served with the utmost attention to detail that comes from Vivi and Eduardo's extensive experience working in kitchens and grills. 
As you walk through the restaurant, you may even notice that there is nothing already prepared on the grill.  There is a reason for that. Vivi and Eduardo believe that "the one who knows how to eat, knows how to wait" and that the best food takes time. Once you choose your cut of meat, you generally need to wait between 20 – 25 minutes as they prepare your meal and it is served fresh and hot off the grill.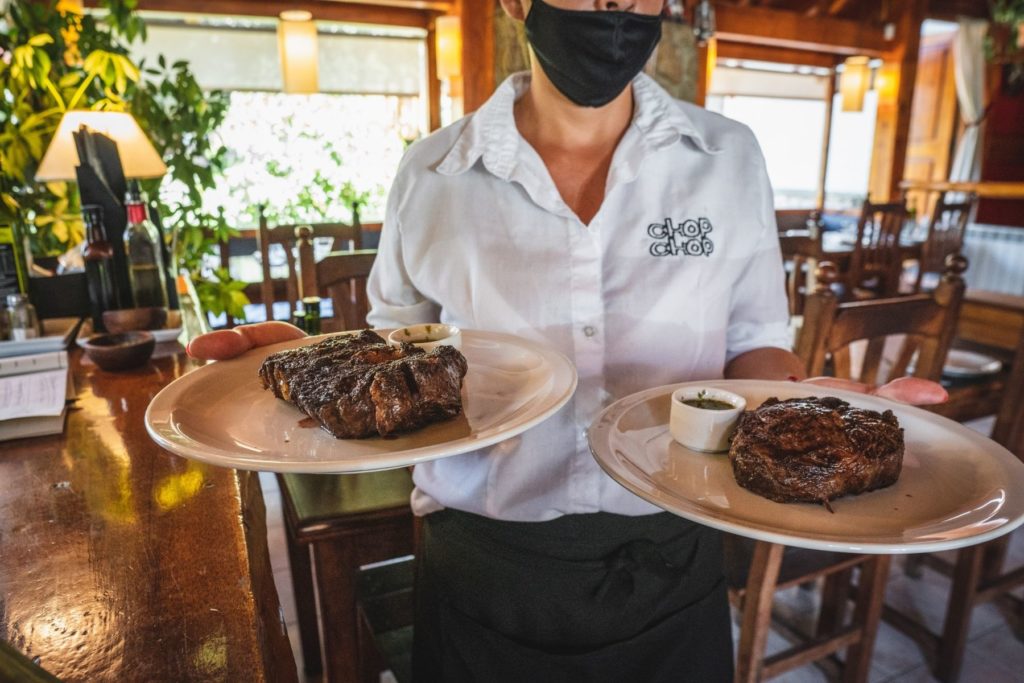 The story of Chop Chop in Villa la Angostura
The story of Chop Chop started back in 1999 when Vivi and Eduardo opened the original restaurant in Punta Alta, near Buenos Aires.  Due to the economic issues that Argentina faced in the early 2000s, they decided to relocate to an area close to a border where there would be more foreign tourism. Patagonia seemed like the perfect place. 
When they moved, they knew that they wanted to open their own business and since they already had experience running one Chop Chop restaurant, they decided to open a second one.   The original Chop Chop is currently being run by her brothers and nephews and the Villa la Angostura branch of Chop Chop officially opened its doors in 2002.
The transition was a smooth one. When Vivi and Eduardo moved to Villa la Angostura, they felt like they had found paradise.  The natural beauty, peace, and tranquility there combined with the lakes, mountains, and green, rolling landscapes makes them feel that Villa la Angostura really does everything they are looking for.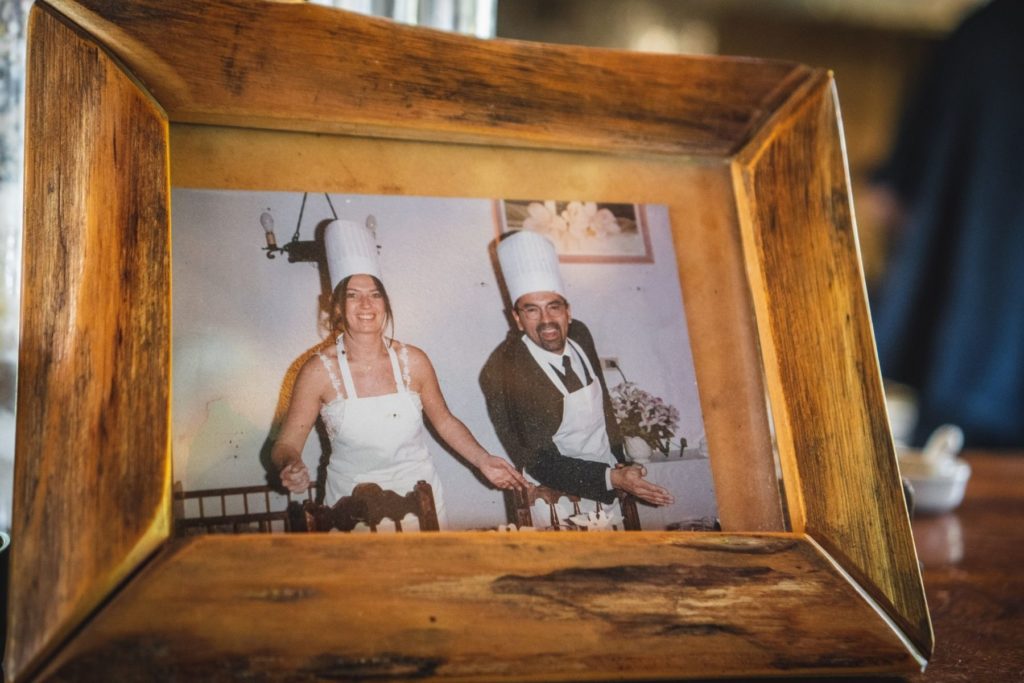 Vivi and Eduardo don't see the business as just a restaurant – they view it as an extension of their home and pay attention to every detail.  A true "foodie", when Vivi was asked what her favorite meat cut is she responded "my favorite cut is the Rib Eye or "Bife de Chorizo", medium rare or juicy, it is the best."   She enjoys combining this with one of Argentina's extraordinary wines from Patagonia or Mendoza such as  Escorihuela, Catena, Roca, or Alfredo Roca. 
Enjoy the Complete Patagonia Experience

Whether you are looking to connect with nature or get the thrills of a lifetime, Patagonia has it all. Spend your morning doing yoga in the forest and afternoon riding bikes around the Andes, the opportunities are endless. If you're interested in exploring Patagonia, but you don't know where to start, send us a message. We'd love to help you plan your wild Patagonian adventure.