The craft beer scene (cerveza artesanal)  has taken the world by storm and you can now find amazing beers in all parts of the world. Although Argentina is very well known for its wines, there is an emerging craft beer scene in Patagonia which will delight beer fans. While Bariloche is known for its strong craft beer culture (they have over 15 breweries and countless craft beer bars), microbreweries are popping up throughout the region as brewers have started combining hops from El Bolson with the pure meltwater of nearby glaciers.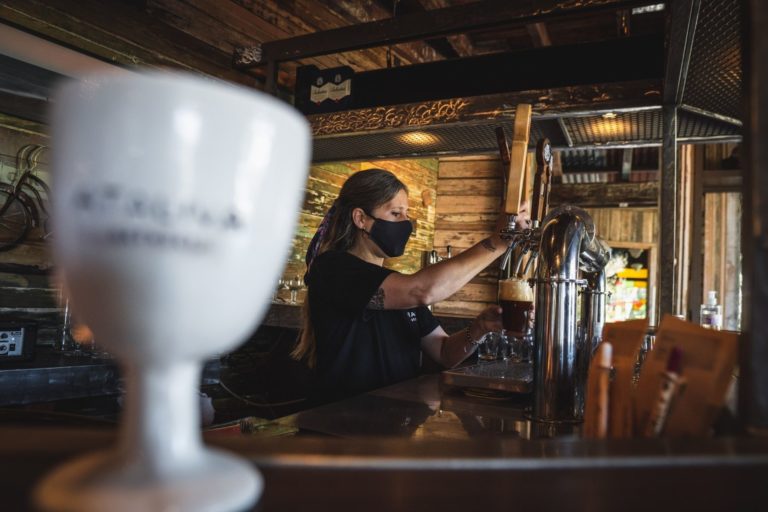 Where to Drink Craft Beer in Villa la Angostura
Villa la Angostura is home to a wide variety of bars and restaurants but one of our favorite bars in Villa la Angostura for craft beer is Ataliva Brewery located in El Mercado, a charming wooden market building full of stores and coffee shops.  With a mouth-watering selection of craft beer, tasty food, welcoming atmosphere and cozy wooden interior, this is the perfect place to relax after a long day.  Don't worry about coming alone – in Ataliva, everyone is considered a friend.  
Eli is the bartender and owner of Ataliva Brewery.  Like many people, she relocated to Villa la Angostura with her husband, Isma, in 2018 after falling in love with the south twenty years earlier while doing  an internship in a hotel in San Martín de Los Andes.  With a lot of desire and a lot of effort,  their  dream came true.  Although it may have taken them a long time to get back here,  they have made up for lost time by starting their own business.  For them, Villa la Angostura is their permanent home. What Eli likes most about living in the town is the solidarity of the people and that it feels like a permanent vacation in the middle of paradise.
To Eli,  Ataliva isn't just a bar.  Ataliva represents a passion for service and this is reflected in the energy of the place which you feel as soon as you walk in the doors. It has the imprint of people and whenever someone comes to the bar, they immediately feel at home.  This is something that Eli is really proud of along with the fact that people have chosen to come to their bar and that they continue to come back.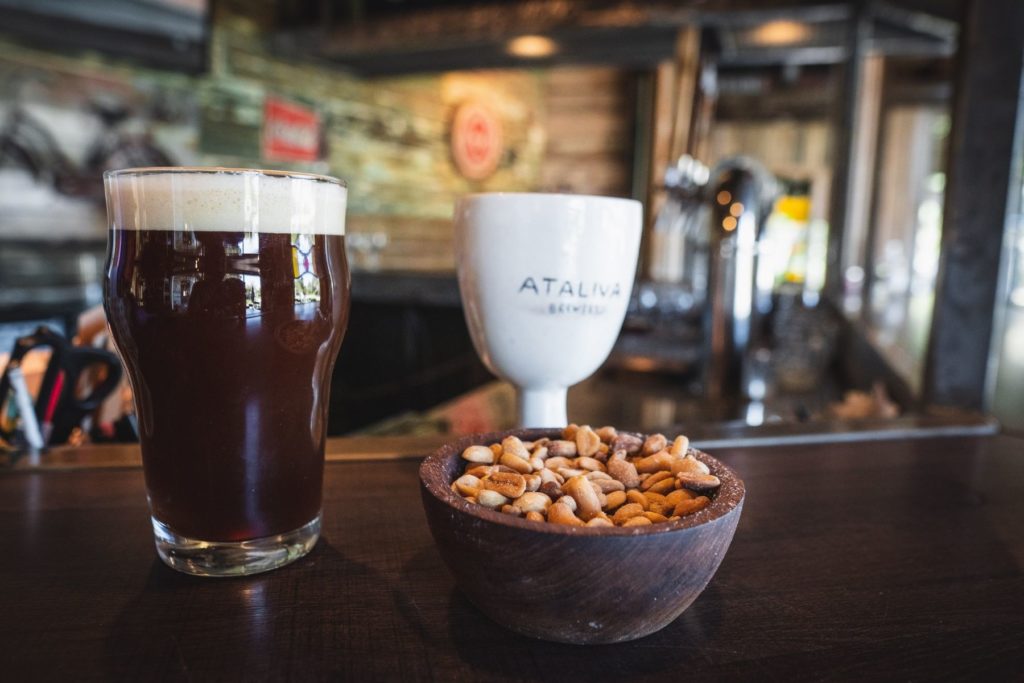 The Types of Craft Beer in Patagonia 
Like with many other businesses in Villa la Angostura, the past year has been difficult due to Covid-19.  The lack of tourists has caused tremendous uncertainty for the many businesses that rely on them.  As a relatively new business in the town, closing for three months was very difficult but the solidarity of the people of Villa la Angostura reinforced their drive and determination to survive those uncertain times. Ataliva found a way to reinvent themselves by developing a new skill – they started their own cerveceria artesanal brewing beer using Argentine hops and Patagonian products!  As of January 2021, Ataliva was open and eager to continue many projects.
While Ataliva serves delicious food, their main strength is their phenomenal beer selection.  They work with several local producers such as Chaqueta Amrilla, Australis, Carpincho as well as serving their own freshly-brewed beer. They have a variety of craft beers on tap including a bitter IPA, a blonde lager, a red ale, a black ale and many more.   If you aren't a huge fan of craft beer, no problem – Ataliva stocks a full range of spirits and delicious Argentinian wines as well as imported beer.
As beer lovers, we always like to find out what bartenders and brewers drink.  When asked about her favorite beers and what to drink in Patagonia, she suggested La Citrca, a local beer with two types of locally grown hops, citra and cascade, as well as La Vikinga, a red beer and IPA Argenta.
Enjoy the Complete Patagonia Experience
Whether you are looking to connect with nature or get the thrills of a lifetime, Patagonia has it all. Spend your morning doing yoga in the forest and afternoon riding bikes around the Andes, the opportunities are endless. If you're interested in exploring Patagonia, but you don't know where to start, send us a message. We'd love to help you plan your wild Patagonian adventure.