The intersection of art, rich cultural traditions and sustainability in Patagonia.
Patagonia is known for its deep commitment towards preserving their majestic scenery and resources that make up it's landscapes. In recent years, Patagonia has become synonymous with conscious efforts towards sustainability and ethical practices towards protecting our environment. Our region here in Bariloche, Argentina contains a community of people who lead by example in their respective fields spanning from the arts, sciences, and sometimes both simultaneously. One great example being; Claudia Caligaris. Textile artist and founder of brand Cali that focuses on sustainbability in Patagonia.  
Argentina is an understated home of art, cuisine, literature, music, dance and sciences. Inspired by European arts from France and Spain, many Argentineans sought out artistic expression in the 19th century. Argentina, creator of the 'tango' dance style, continues to honor the heritage of strong connectivity of self-expression and nature, a deep reflection of the culture they live in daily.  
Some may not think twice of how Patagonia remains so mystical and striking in its terrain. However, the values of respecting nature and doing little to disrupt the ecosystems of Patagonia run deep within the culture of the civilians. Patagonia recently declared a national park, after the sale of land from conservationists to the Chilean and Argentinean government between 2005-2015, was officially founded as a symbol of refuge for our planet. 
Who's practicing sustainability in Patagonia?
Bariloche, a region of like-minded artisans create consciously and meditatively, not only to leave behind little environmental impact, but also to truly connect to their work which takes on new life when going home with its new owners, or experienced by a crowd in a gallery or live musical performance. We personally love to peruse the variety of arts and handcraft markets here in our town from the Municipal Craft Fair to the Zeum Mapuche Craft Fair, showcasing these artisans and makers. Cali textile atelier being one example is a strong representation of the ethos here in Bariloche that our artists live by.
Claudia, owner of Cali, has lived in Villa La Angostura since 2003. In Brazil, Claudia studied tourism, ceramic arts and began to dabble in the ancient techniques of textile dyeing and manipulation. After the eruption of the Puyehue volcano, she was inspired to direct her entrepreneurial practice towards completely sustainable methods, as homage to the town she loves in an effort of preservation.
Claudia designs and produces one of a kind, hand-sewn garments, accessories, home textiles, wall art and more using natural fibers, that display motifs of the nature and world that surround her in Bariloche. Not only is her blank canvas that of natural materials, from silk, cotton, linen and more, additionally she extracts dyes and inks from local plants and flora.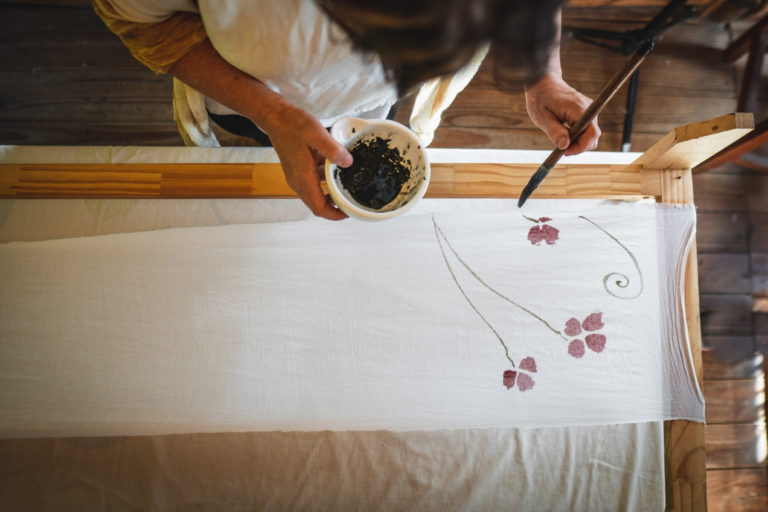 What's Cali's artistic process? 
Collecting plants sparingly throughout different seasons of the year, Claudia uses the resources around her utilizing every part of the plant or flower. Some plants and flora are stored for later use, while others soak in preparation for the immediate dye process. Claudia incorporates everything from the petals and leaves that boil down into vibrant colored paints and inks, to the stems incorporated as details into her chokers and pendants. Some plants in Claudia's garden perform as natural fixatives such as "lengua de vaca" (cow's tongue), which assist in 'locking' the color to the fabric permanently. Another instance where the land of Bariloche can provide immensely. 
Cali's method of utilizing natural dyes protects our environment in many ways. Non-manipulated natural dyes do not emit chemicals into the air or water systems. We can also consider that dye being extracted from local plants equals zero packaging, as opposed to synthetic or store-bought dyes, which often come packaged in cardboard or worse yet, plastic bottles! In addition to using every physical element of the plant during the dye process, Cali incorporates smart design, where many pieces are 'zero-waste'. Meaning there are no scraps of fabric to throw away in the sewing process. The 'Rosehip Scarf' beautifully hand painted with cochineal ink, executed using Batik + Sumi-e dyeing and painting techniques is our personal favorite zero-waste product of Cali!  Who says we can't rock a gorgeous work of art that's sustainably made?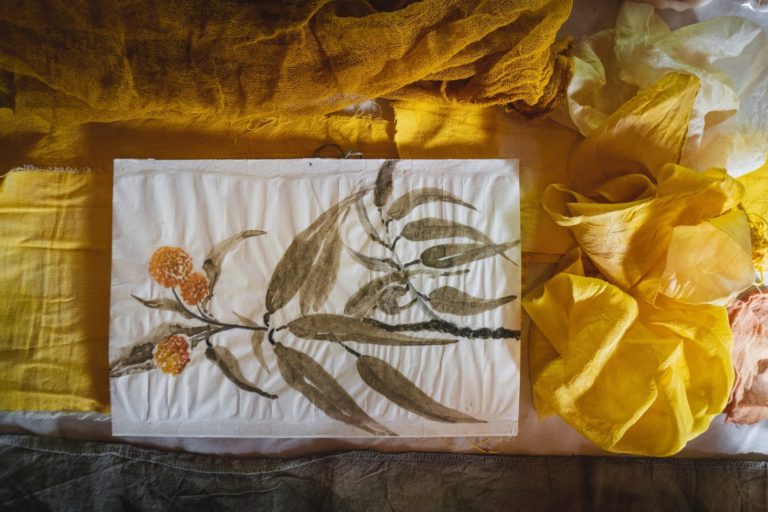 Not only are these products from Cali's atelier literally part of the nature here in Bariloche, but symbolically they are too. Inspired by climate change, Claudia has organically pivoted toward sustainable, and ancestral techniques to achieve her patterns and paintings on fabrics that are often wearable pieces.  Integrating and fusing methods such as Shibori, Batik, Ecoprinting and free-hand Sumi-e painting, her slow-fashion items are one of a kind outcomes, and truly a labor of love. 
How to get the full experience: 
The weight of Cali's products sends a beautiful message and luckily, Claudia is willing to share her rituals. Cali's atelier is open for nature walk experiences where guests and travelers are invited to gather, experiment with Patagonian Inks, Stamps and Dyes on fabric or paper and slow down to appreciate the atmosphere surrounding them. 
When purchasing a gift for a loved one from Cali, you also are purchasing an ethically made, nurtured part of the Patagonian landscape. Much like the inception of Patagonia becoming a national park, you are carrying on its legacy and owning a piece that may remind you of your contribution to this breathtaking land. The cherry on top to purchasing a beautifully handcrafted creation from this studio is that 20% of Cali's sales are donated towards local reforestation campaigns, continuing the mission of environmentalism.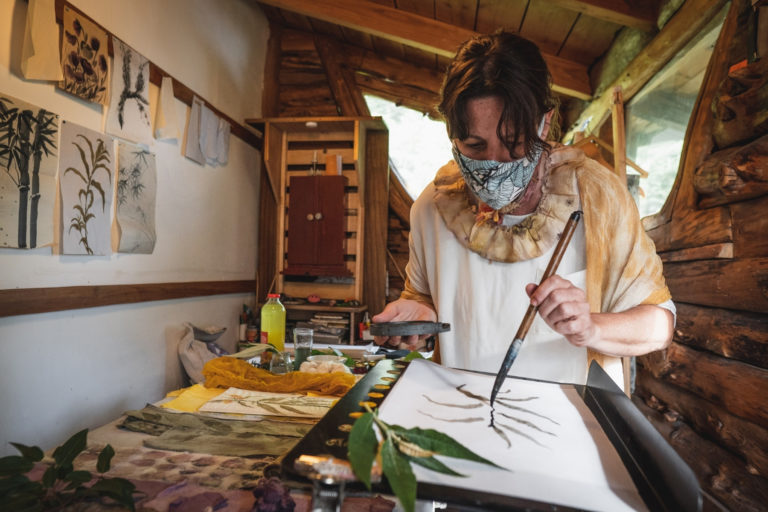 What are ways we can all practice sustainability? 
We can consume consciously. 
Cali and other sustainable artisans of the Bariloche region strive to create thoughtfully made works of art that are meant to be cherished. By supporting our local businesses and artists of this caliber and scale, you support crucial behaviors that demonstrate love to our planet, and play a role in sustaining this beautiful piece of it. We're so excited to plan our next nature walk with Cali, to slow down, breathe in, meditate, create and get inspired from the nature that we are honored to call home.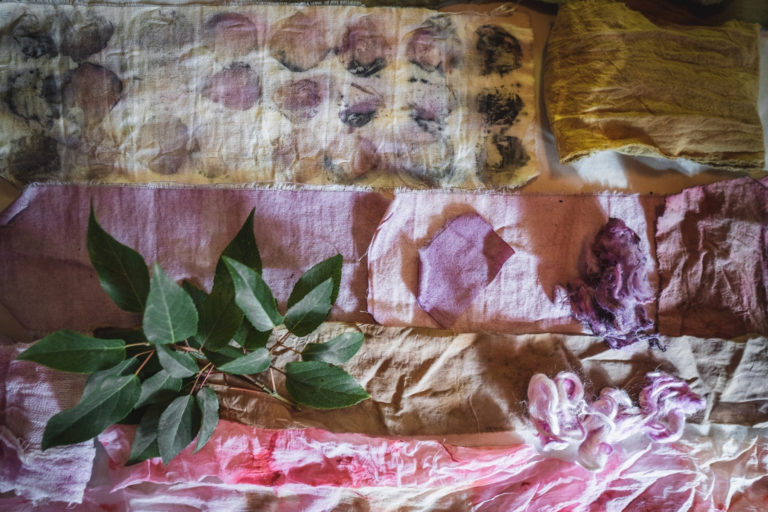 Discover the beauty of Patagonia with In Situ Viajes
Whether you are looking to connect with nature or get the thrills of a lifetime, Patagonia has it all. Spend your morning doing yoga in the forest and afternoon riding dirt bikes around the Andes, the opportunities are endless. If you're interested in exploring Patagonia, but you don't know where to start, send us a message. We'd love to help you plan your wild Patagonian adventure.