BA Cultural Concierge goes to Villa la Angostura with ISV Patagonia
Madi Lang is a walking, talking encyclopedia when it comes to the history and culture of Argentina and especially Buenos Aires. 
Originally from Bethesda, Maryland Madi has been living in Buenos Aires for over 15 years and creates insightful travel experiences around the country with her travel and tour agency – BA Cultural Concierge.  
A couple of months ago we got in touch and it was an instant sparks (2 American girls in Argentina with travel agencies, it only made sense). 
When Madi told me she had never really done a deep dive into Villa la Angostura, I invited her to spend the week with us to get the complete Patagonia immersion experience. 
Madi is a self-proclaimed "low effort, high reward" sort of traveler, so we ate, drank, relaxed and explored through a perfect summer week in Villa la Angostura – here's the recap. 
Adventure Highlights in Villa la Angostura
The ultimate low effort, high reward adventure. We drove the scenic route up the famous 7 Lakes Road to the entrance of a stunning hike/walk that gives panoramic views of the Andes while crossing through rivers to reach an iconic waterfall of the area. 
Prepared with medialunas (croissants in Argentina), macarons & mate, we marveled at the teal waters before returning back. 
Inside Insights from Paige & Madi
Timing is everything when you go to Nivinco. It's worth it to go in the morning to beat the crowds. 
This isn't a rushed trip or for the highly ambitious hiker. Take snacks, stop to take pictures, take your time and enjoy the journey and destination.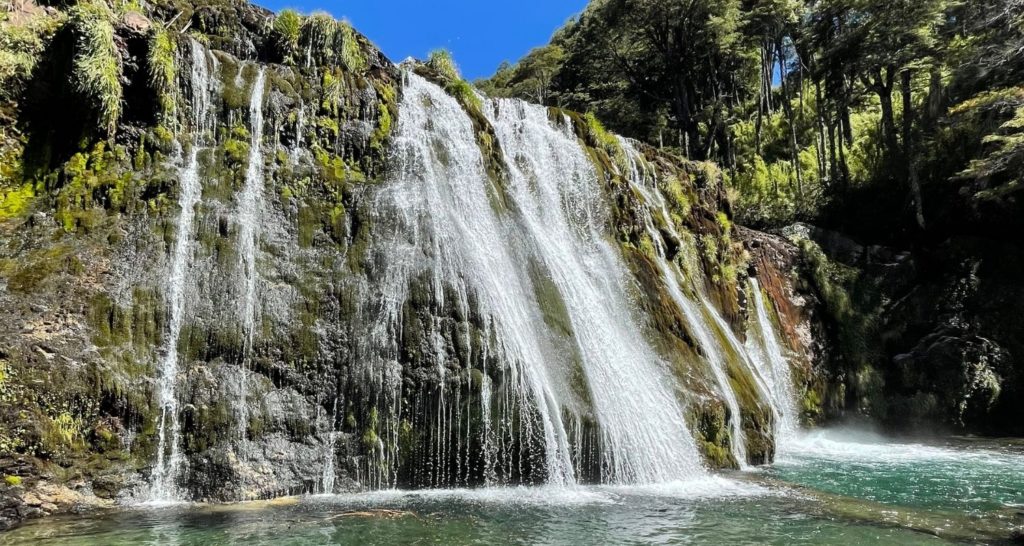 If you've ever chatted with me, you'll know that kayaking is my absolute FAVORITE activity in Villa la Angostura. There's a magical feeling from floating in the transparent turquoise waters while surrounded by the mountains and I couldn't wait to show Madi. 
We paddled out of Craft Bay and headed towards the port, a trip with plenty of breaks to lay back, relax and breathe in the fresh Patagonia air.
Inside Insights from Paige & Madi


Las Balsas is perfectly situated on the lake so that you can jump in the kayaks and "paddle out". Think ski-in ski-out but easier.
Hiking Belvedere in Villa la Angostura
One evening, we decided to take on the mountain to see the golden hour at the top of one of the famous trails in Villa la Angostura. 
Passing by the Incayal Waterfall and a bit of steep slope, we took a moment to get the bird's eye view of Villa la Angostura. 
Inside Insights from Paige & Madi


This didn't follow our low effort, high reward model of the rest of the trip. Moderate effort, with good top of mountain views.
Sailing in Villa la Angostura
Taking advantage of one of the perfect, summer days, we hopped on a private luxurious boat and set off onto the lake. 
And wow…
Crossing the idyllic lake, sailing in style through the deep blue waters while passing by the little islands is always how we like to arrive on the National Park peninsula, or anywhere, really. (Except from VLA to BRC, that's a no-no mainly for the wind and waves at a certain confluence.) 
Inside Insights from Paige & Madi
There are time for group trips and there are times for private experiences. Getting your own private boat is worth it in Villa la Angostura. You'll get to enjoy the journey and the destination.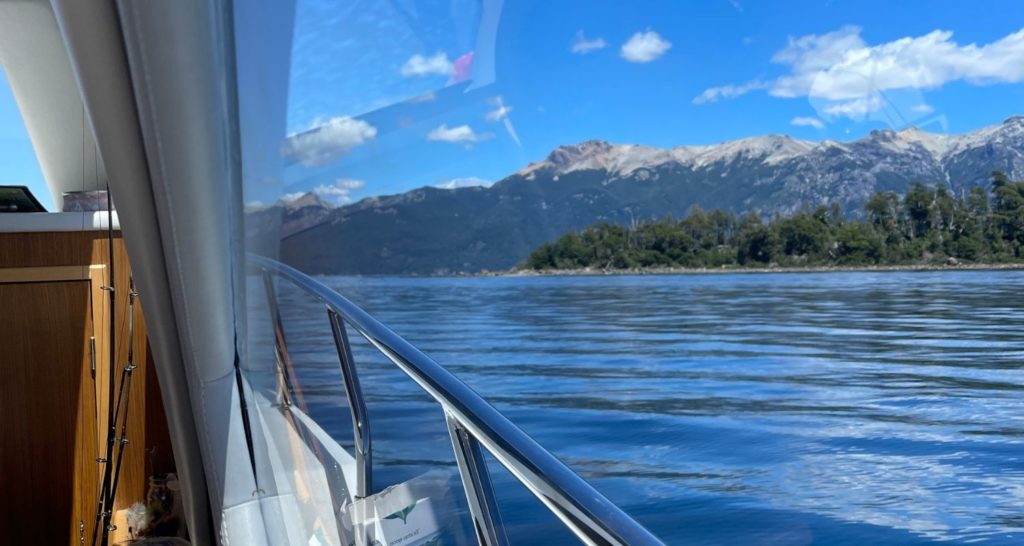 Bosque Arrayanes is the most well-known activity in Villa la Angostura. With a quick loop around the park we decided to hike the way back to town (13.1 kilometers). 
With Coihues stretching to the sky and the deep blue lake by our side, this was an easy but long walk back to town.


Inside Insights from Paige & Madi


Don't just stay in the forest for the best views of the Arrayanes Trees. Right outside the entrance you'll find a small forest of Arrayanes that are picture perfect. 
Horseback Riding in Villa la Angostura
You really can't come to Patagonia without riding horses with gauchos. So before heading out, we did a ride through the woods, down a river and to the beach.
Inside Insights from Paige & Madi
Don't take snacks. Let us customize this experience for you to include a gourment lunch or asado. 
Restaurant Picks in Villa la Angostura
Madi stayed at Las Balsas during her time in Villa la Angostura. So we naturally took advantage of the unparalleled views and best fine dining experience in the area.
Our Favorite Dishes:
Patagonia Lamb, Paris mash and coffee sauce

Shrimp Hot Dog
Salmon with peanut and pink peppercorn Gremolata, white beans, vegetables
Tomato Soup & Grilled Cheese
Charcuterie
Lemonade
Iced Coffee
Bloody Mary

Everything Breakfast
La Delfina is a fine dining restaurant in La Escondida. Situated right on the lake, we were able to watch the sunset up close while enjoying the flavors of Patagonia.
Great views from the outside but cozy and rustic on the inside.
Our Favorite Dishes:
Lamb empanadas

Ribeye with quinoa and tomato sauce
Chocolate and Raspberry Bark
When it comes to dining in Villa la Angostura, El Mirador is exceptional. The other restaurants give a close lakeside view whereas El Mirador sits on a cliff and lets you look down onto the lake with a full panoramic view. Everyone should experience both! 
This is the perfect place for drinks and light dinner. With a large deck and patios, this is a must-visit during summer.
Our Favorite Dishes:
Merluza with garlic, chorizo and artichoke

Trout Ceviche
Between adventures, we took time to lay on the beach, by the pool and explore the local shops like Coiron for ponchos and Punto Chocolate for ice cream. 
A trip to Villa la Angostura should be filled with exploration and beautiful views, but we are also determined to make it feel like a piece of home for everyone that comes – Madi was no exception. 
Next time we'll be exploring on her turf – beautiful Buenos Aires – so stay tuned! 
Are you a Travel Agent looking for a DMC in Patagonia?
ISV Patagonia is a DMC (Destination Management Company) that works exclusively with travel agents to create incredible experiences in Villa la Angostura, Patagonia, Argentina. 
If you're interested in learning more about the area or have a client wanting to explore Patagonia, let's chat.