Villa la Angostura is famous for its beautiful scenery, charming Swiss architecture, and out-of-this-world desserts.  However, not many people are aware of the fascinating history of this town or the surrounding areas of Patagonia and how this impacts the delicious culinary treats that are on offer today.
Like the rest of Patagonia, Villa la Angostura saw an influx of European immigrants throughout the 19th and 20th centuries for a multitude of reasons.  Unlike in the United States where people initially settled on rural land and developed lives as farmers, immigrants to Argentina moved to urban areas and left many parts of the country, including Patagonia, unpopulated. The Spanish government wanted to change this and the 1853 Constitution even included an article that prohibited any barriers to immigration by Europeans.
As a result, Europeans began to pour into Patagonia either because they were looking for a better quality of life, were escaping war, or simply wanted a bit of adventure and were drawn to the beautiful nature. Along with their trunks, bags, and suitcases, they brought their traditional ways of cooking and baking including everything from chocolate to ice cream to cakes.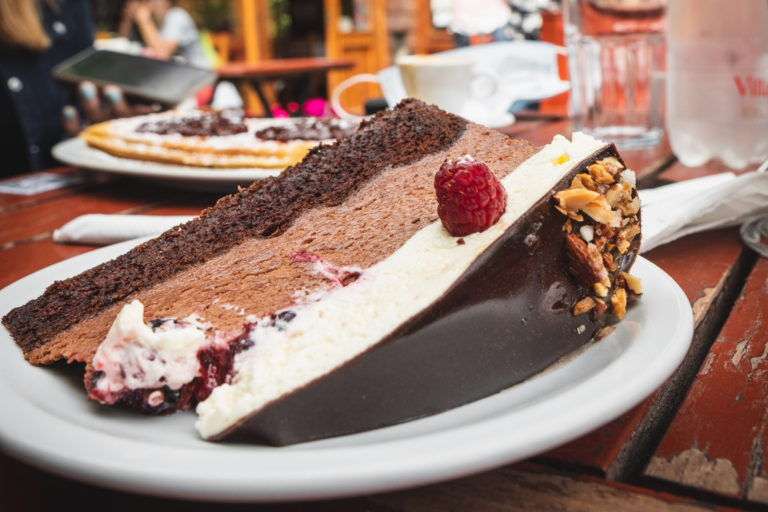 While many of the cafes and bakeries in Europe have marched forward and modernized their baking methods, the villages and towns of Patagonia have tried to keep the Old European essence alive much to the delight of both locals and tourists!
History of Desserts in Patagonia
In many of the eateries in Patagonia, you will find products that are hand-made using carefully sourced materials from different parts of the region.  People are extremely proud of the time, dedication, and attention to detail that goes into making handmade desserts, and you can easily see and taste the difference in quality from mainstream, modern methods.  
The traditions that were brought by Italians, Germans, Swiss, and Belgians have now been carefully passed down through many generations and are still going strong in Villa la Angostura today.  The traditional ways of preparing desserts combined with the extremely high-quality dairy products that are available here create products that are simply unbeatable and you can find some of the world's best ice cream, chocolate, and cakes throughout the town.  This place truly is heaven for people with a sweet tooth (or hell depending on how strict your diet is!).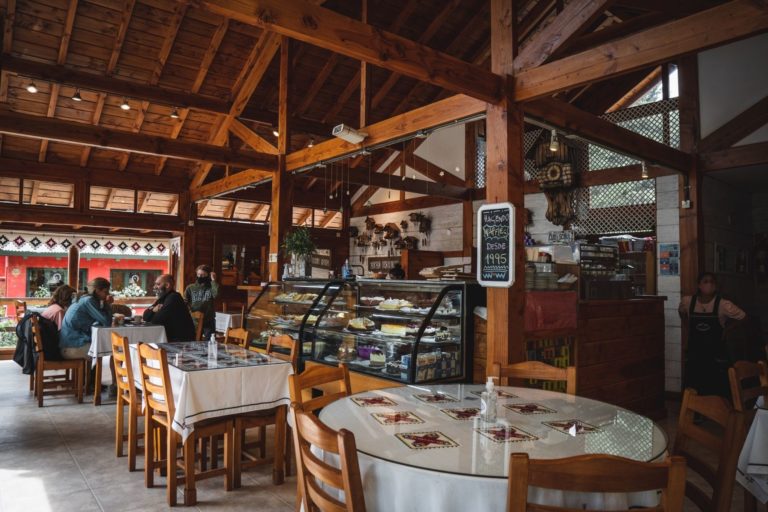 In Villa la Angostura, there are many places where you can try delicious desserts but one, in particular, stands out. After 35 years of offering mouth-watering desserts, Cucu Schulz has become a bit of a landmark in the town and is a must-visit for anyone looking to indulge in some of Argentina's top-notch artisanal products.
Where to eat in Villa la Angostura
Cucu Schulz stands in the middle of Villa la Angostura's main avenue like a heavenly little oasis surrounded by roses, and flowers.  When you go inside, you are met with a delicious array of freshly baked handmade cakes.  The menu is constantly changing and all the ingredients are locally sourced from the eggs and flour that make the batter to the delicious handmade jams that give the cakes an extra splash of flavor. The overall effect is kind of like going to your grandma's house and being delighted to see the tasty treats that are on offer. 
One of the best dishes to try while you are at Cucu Schulz is the waffles.  Unlike many of the pastries in Villa la Angostura which are based on European styles, the waffles at Cucu Schulz are cooked using an American recipe and as a result are delicious, light, and thanks to 25 years of experience making them, they are basically perfect.  They come in many different varieties and you can enjoy them with Roquefort cheese and arugula, or chocolate and fruits that come from the surrounding areas.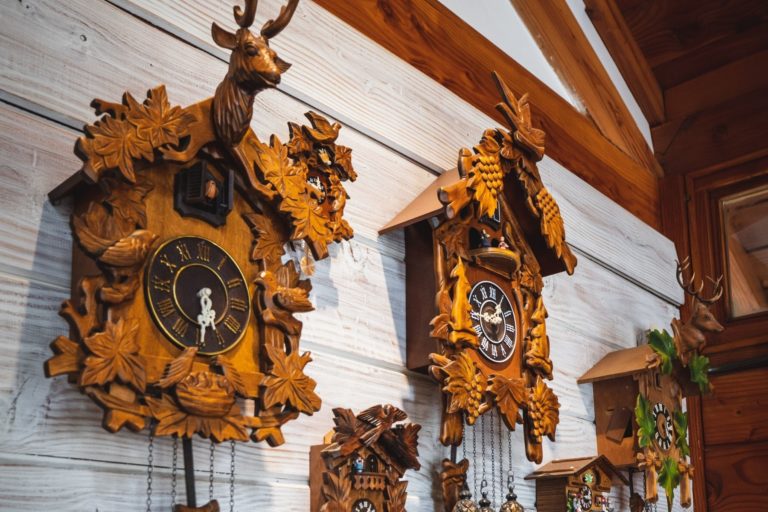 Background Story of Cucu Shulz
For the owner Mirta, the evolution of Cucu Schulz has been like watching a child grow up. Like so many people in the town, Mirta was originally attracted to the beauty of Patagonia and she couldn't believe that there was a place like it in the world. The town and its surroundings are blessed mountains, virgin forests, and crystal clear lakes where you can hike, boat, or fish and it is no surprise that so many Europeans were drawn to this magical area of the world.  
She started Cucu Shula and the business grew as Villa la Angostura continued to attract more and more residents and tourists.  She began to add more products and improve the existing ones while creating an ideal place for someone to visit who wants to come and enjoy a Patagonian experience. 
Things have not always been easy and for the past 35 years, Cucu Schulz has managed to survive the turmoil that has plagued Argentina over the past few decades including hyperinflation, changes in government, and most recently the economic impacts of COVID-19. Like many businesses in Villa la Angostura, tourism was an important part of the shop's revenue.  However, for Mirta the loss of income wasn't the only negative aspect of the lockdown.   Villa la Angostura is a tight-knit community where people develop close relationships and welcome outsiders.  Without tourists,  there was the emptiness of not having as many people to talk to which was another challenge of this last year.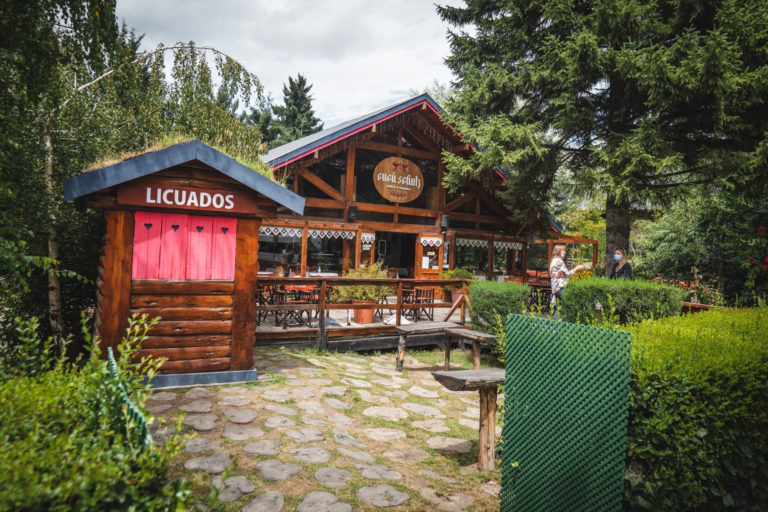 However,  there were some positive aspects of 2020. Like so many mothers before her, Mirta is grateful for the chance to pass down some of her knowledge to her three children, who came to help her throughout the past year.  This family experience brought back old memories and created new ones and this essence added to the whole visitor experience of Cucu Schulz. Because at the end of the day, a memorable trip to a cafe or bakery doesn't just come down to the slice of cake that you ate.  It is the warm smile that greets you when you enter and a welcoming atmosphere where you feel like you are just another member of the family.
Despite the hardships that came along with 2020, the values of the shop and its staff still hold true and they are dedicated to providing a wide variety of high-quality products that Argentina and the country's ancestors can be proud of and they look forward to seeing you there!
Book your trip to Patagonia with In Situ Viajes (ISV)
Whether you are looking to connect with nature or get the thrills of a lifetime, Patagonia has it all. Spend your morning doing yoga in the forest and afternoon riding bikes around the Andes, the opportunities are endless. If you're interested in exploring Patagonia, but you don't know where to start, send us a message. We'd love to help you plan your wild Patagonian adventure.