Ah…the enigmatic land of Argentina. Spanning from provinces that include cities, lush jungles all the way to striking arctic, depending on if you're in the North or South of our elongated country. With its various ecosystems and contrasting terrains, it may or may not come as a shock to learn that Argentina is the home of some of the world's largest fruit sources, seeds and elaborate irrigation systems. This is a pleasant surprise to our travelers who visit looking for natural products Patagonia. Especially when they discover the beauteous produce market that is Josecito here in Villa La Angostura.
Argentina has a rich history of its population's connection to food and teatime, a daily ritual established by British immigrants of the 1800's. Between all of the nooks, crannies and, of course, meat, that is one's daily meal plan in our town, lays a bounty of different fruits and vegetables that are specific to Argentina.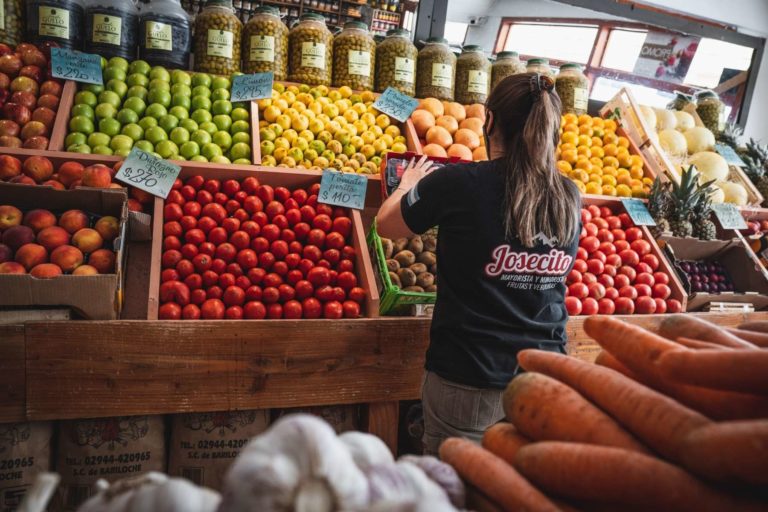 Local natural products in Patagonia to eat during your trip: 
Raspberries:

grow wild throughout the Bariloche region in the summer. One can easily find many on a stroll and pick right off the bushes, or buy fresh in the market. We recommend making a

Raspberry Bavarois

dessert after a hot summer day.  

Calafate Berries: unique to the area with a sweet flavor, look very similar to the common blueberry, but more closely resemble a blackberry in taste. They also have a reputation for being extremely healthy and loaded with antioxidants. Lastly, in Patagonian mythology, this berry represents a symbol of your guaranteed return to

Patagonia

in the future!  

Honey: a sweeter, subtler taste than most honey produced elsewhere due to our low sugar content, Argentina is one of the top ten producers of this delightful staple in the world. This comes in handy during our teatime (merienda) ;).

Jams: Homemade jam products are a primary ingredient for breakfast and teatime nourishment. Your delicious local jam will definitely incorporate at least one if not a combo of the above fruits and more. 
These fruity specialties are some of many, tasty, options one should try when in Argentina, as a few aren't as ubiquitous in some areas of the world. However, you can also always rely on finding more globally recognized fruits and veggies. Patagonia is especially world famous for our juicy Rio Negro apples.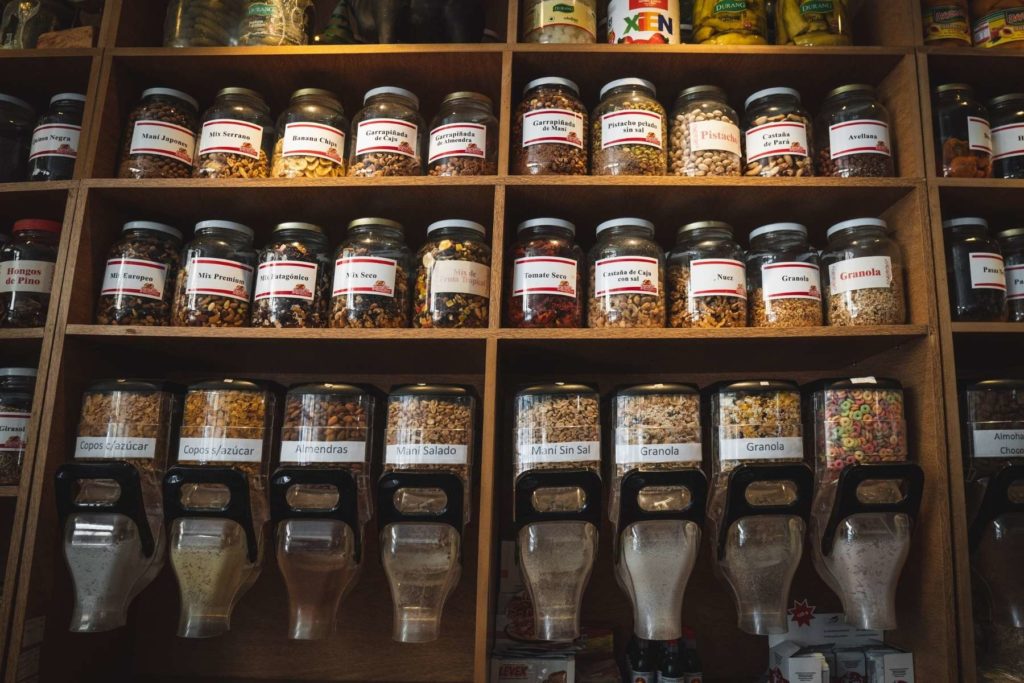 Where to buy fresh fruit and natural products in Villa la Angsotura
We consider the first stop of any food journey being the butcher or produce shop. For the latter, we choose Josecitos. 
Josecitos, a family owned produce shop that originated in Neuquén, Argentina expanded and moved to Villa La Angostura within the last decade and stocks fresh fruits and vegetables that are ninety percent Argentinean, sourced directly from Mendoza, Argentina. Therefore, you can anticipate finding some of Argentina's specialty fruit gems as well as other common fruits and vegetables on their shelves. 
Grocery lists may include: grapes*, apples*, calafate berries*, and bananas to squash*, potatoes*, and eggplants* and much, much more. (*=grown in Argentina). 
Initially, the Villa La Angostura Josecitos location being strictly a wholesale supplier to the many gastronomes and restaurants here in our town, broadened their services towards also offering every day produce to local consumers and tourists. 
Josecitos prides itself on catering to all customers in the same manner. They make it their priority to provide the same personalized care towards their wholesale customers as they would with any individual produce shopper.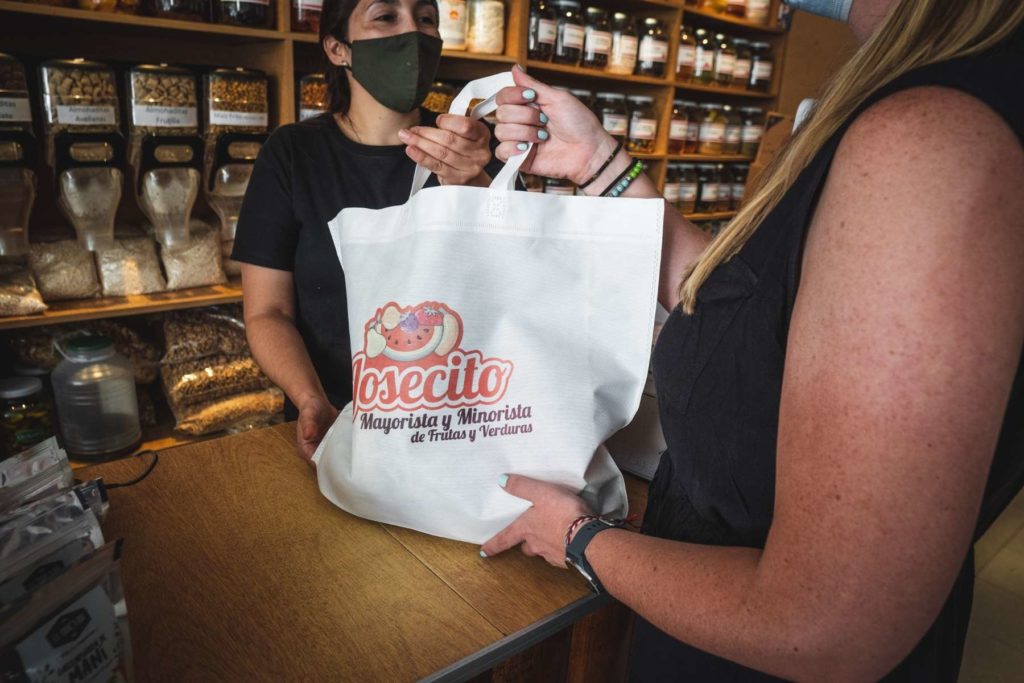 Josecitos Personal Touch: 
Josecitos adds products based on what their customers ask for, over time stocking merchandise that suit the current demands and seasons. A vital resource that we have been grateful to have access to, especially throughout the global pandemic.    
The owners of Josecitos, a bit skeptical about moving their business to Villa La Angostura initially, have been elated to have found a tranquil and lovely community amongst our town: 
"In Villa La Angostura you can go anywhere to shop, or sit in a restaurant or confectionery, you always find people you know. Being a small town, it has the essence of being familiar, almost all of us know each other and this makes everything more relaxed and trustworthy." –Josecitos Owner
The Josecito family works six days a week on average, to fuel our town. Which in turn, provides us with our enriched experiences in restaurants or when hosting an Asado at home with friends. 
The town of Villa La Angostura is so fortunate to have the ability to shop at this warm, family business that strives to really hear its customers and their needs. Josecito owners say that even tourists regularly stop by their shop, year after year, remembering them fondly from their last holiday. 
Josecitos is simply the essence of Villa La Angostura. Welcome home. 
Book Your Trip to Patagonia with In Situ Viajes
Whether you are looking to connect with nature or get the thrills of a lifetime, Patagonia has it all. Spend your morning doing yoga in the forest and afternoon riding dirt bikes around the Andes, the opportunities are endless. If you're interested in exploring Patagonia, but you don't know where to start, send us a message. We'd love to help you plan your wild Patagonian adventure.